Downtown Rapid City is known for its sculptures of the presidents. The City of Presidents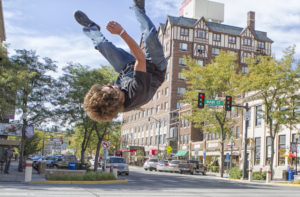 project began in 2000, to honor the legacy of the American presidency. Each year, four presidential sculptures have been added to corners in downtown. We were fascinated by another Rapid City attraction, Art Alley, a living tribute to freedom of expression. Free-form graffiti murals intermingle with pop art, abstract and cultural works in a constantly changing display of bright colors and ingenious creativity. We enjoyed watching skateboarders show off their skills in a downtown park. Our stay in Rapid City included a visit to the Journey Museum, depicting culture and history of the Black Hills.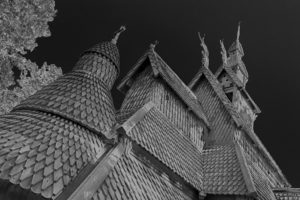 Nestled at the foot of the Black Hills, the Chapel in the Hills is a quiet retreat. Also known as the Stavkirke Church, the chapel is a replica of a church in Norway that was built more than 800 years ago. The structure combines Norse dragon heads, Christian symbols, fancy roof shingles and a pegged-timber construction.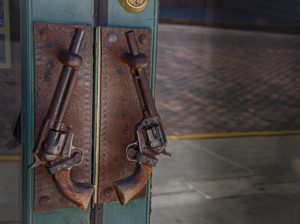 We enjoyed strolling the streets and stopping for lunch and a beer in Deadwood, a restoration of a historically significant city. Deadwood's extensive Victorian architecture is unique to the West. While the gold rush of 1876 brought the likes of Wild Bill Hickok and Calamity Jane, it also provided the wealth to construct a thriving commercial center in the heart of the Black Hills of South Dakota. The most important event in Deadwood history was a poker game in Saloon #10 on August 2, 1876, where the sniveling coward Jack McCall snuck up and shot Wild Bill Hickok in the back of the head. Hickok had arrived in Deadwood only a few weeks earlier, played a succession of card games, and never in his life sat with his back to the door. Until that day.
Follow us to our next adventure –
the Badlands.
Back to South Dakota main page.