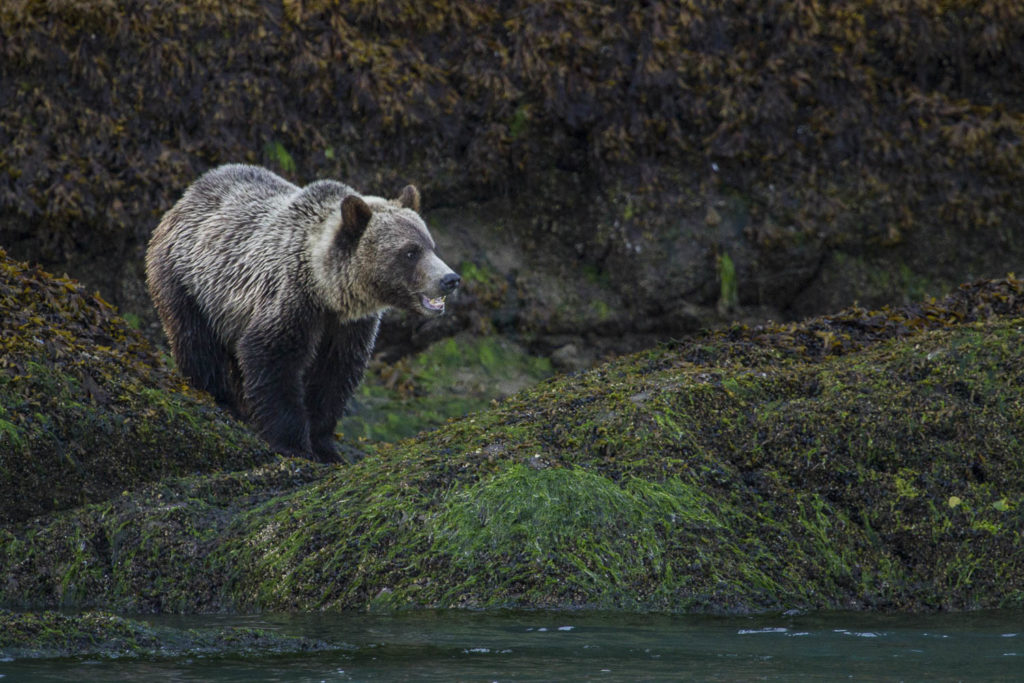 We joined Tide Rip Grizzly Adventures for a boat ride to Knight Inlet, due north of Johnstone Strait and Telegraph Cove for our exciting bear and wildlife spotting adventure. It took about two hours to reach the Great Bear Rainforest where we transferred from our Coast Guard certified boats to smaller flat-bottomed refurbished herring boats, allowing us to get close to the shallow tidal estuaries where the bears search for food.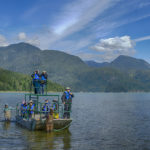 Our guides for the day were bear experts, and we learned so much about these (mostly) gentle giants as our guides motored and sometimes walked our viewing skiffs within 50 meters to the bears. We saw quite a few mothers with cubs up close, and a few larger males further back in the estuary.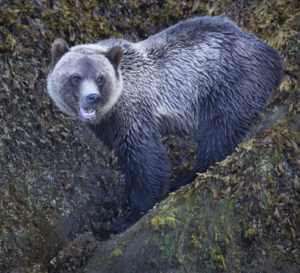 The grizzly is the 2nd largest land carnivore in North America, second only to the polar bear. Most adult female grizzlies weigh 290–400 lb, while adult males weigh on average 400–790 lb, and despite their size, they can run up to 30 miles per hour. We watched numerous bears feed on sedge grass and overturn large rocks in search of food. Our expert leaders were a bit concerned as the annual arrival of the salmon was a few weeks late, and the bears desperately need to bulk up on the salmon in preparation for hibernation.
A nearby dock surrounded by water provided a safe place for our hosts to prepare all the fixings needed for a picnic lunch. In addition to the spectacular scenery on the ride back, we were thrilled to come upon a few pods of active Orcas. We stopped for gas at a quaint little marina called Lagoon Cove, which included a rustic repair shop, ping pong and corn hole games, and of course, ice cream!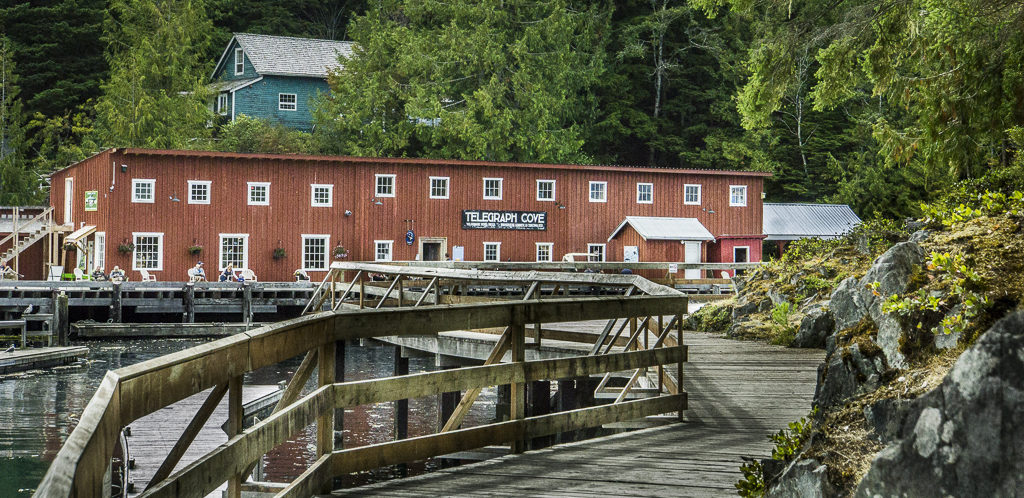 Back at Telegraph Cove, we had some time to explore the history and beauty of this picturesque little village with a rich and colorful past. Telegraph Cove's history as a lumber mill and salmon saltery goes back to the early 20th Century. It acquired its name in 1912 when the Superintendent of Telegraphs was shopping for a lineman's station and northern terminus for the telegraph line from Campbell River. The protected fishing village proved ideal. Telegraph Cove became the community's name. Today it bustles with summer activity as a base for grizzly and whale watching trips, kayak and fishing excursions.
Click on first photo below to enlarge and see caption, then click right arrow on keyboard to scroll through the gallery.
Our last stop,
Capilano Suspension Bridge in Vancouver.
Back to British Columbia.
Go to other Destinations.