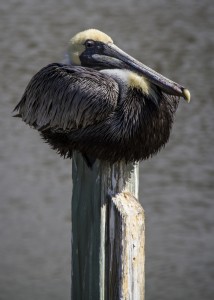 Our bike trek took us to Chokoloskee Island, which is separated from the Gulf of Mexico by the northern end of the Ten Thousand Islands, and it is connected to the Everglades by a causeway.  This low lying land reaches a high-point of 20 feet above sea level. This height is due to the shell mounds built on the island during more than 2,000 years of occupation by Native Americans.
Ted Smallwood's Store was built in 1906 as a general store, post office and Indian Trading Post.  It was reached primarily by boat.  Today it is a museum that replicates what the store originally looked like with thousands of original items and products.
We took a short ride to photograph the pelicans at the fishing pier and enjoyed a nice outdoor lunch with our biking group at Island Cafe.
On to Big Cypress and Swamp Walk
Back to Southern Florida