Big Cypress National Preserve became the first national preserve in 1974.  Consisting of 270,000 acres dominated by a wet cypress forest, it is host to an array of flora and fauna, including mangroves, orchids, alligators, venomous snakes,  a variety of birds, and the elusive Florida panther.  The preserve is also home to nine federally listed endangered species including the West Indian Manatee, the eastern indigo snake and the Florida Sandhill Crane.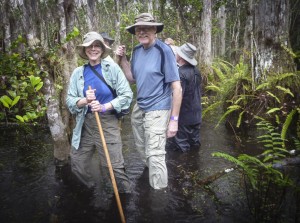 A highlight was taking the 2-hour swamp walk led by a Naturalist at Clyde Butcher's Big Cypress Gallery. Waist-high in the swamp, we needed a stick to keep our balance while navigating through the water over mangrove roots and a very uneven limestone base.  It was a bit disconcerting when we realized there was an alligator in the swamp with us about 25 yards away, but it didn't bother us.
After changing into dry clothes we enjoyed looking at the spectacular black & white photographs of the Big Cypress area taken by Clyde Butcher. Truly inspiring!
Follow us to Corkscrew Swamp
Back to Southern Florida