After saying goodbye to our Road Scholar friends, Jim and Betsy continued on to revisit the Badlands and Custer State Park. We arrived at Custer for sunrise and really enjoyed exploring this wonderful State Park which certainly rivals many National Parks we have visited. Pine forests, grassy meadows and towers of granite provide a beautiful backdrop for a wide variety of wildlife. In addition the herds of roaming buffalo, we saw pronghorn, mule deer, burros and prairie dogs.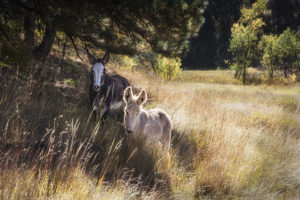 The wildlife loop road travels 18 miles through open grasslands and pine-covered hills, and we were surprised to find it backed up to and connected to Wind Cave National Park. We took the road into the National Park and spent about an hour exploring the beauty and diversity of the land of Wind Cave without seeing another person. This was not surprising, as technically it was closed. All National Parks closed starting that day due to a government shutdown. We were relieved that we had already been to Mt. Rushmore, Devils Tower and the Badlands prior to the shutdown. Some other travelers we met who came from as far away as Japan were not so lucky.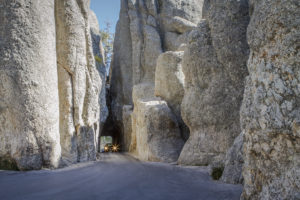 We continued on to a spectacular drive on the Needles Highway. Fourteen miles of sharp turns, low tunnels through forested mountains provided amazing views of the giant granite spires called "the Needles".
And of course our explorations included a stop at the famous Wall Drug Store which got its start during the depression years by offering free water to thirsty travelers.
Back to
South Dakota main page.
On to other destinations.