Ovens Natural Park contains 190 acres of pristine reserve of coastal forest, located on the Atlantic coast of Nova Scotia, along the scenic Lighthouse Route.  Every year, thousands of park visitors hike the spectacular trails along the cliffs to view the famous sea caves, or "Ovens" for which the park was named.  A series of walkways and staircases built into the rock cliffs allow visitors to explore the caves from above, beside and behind.  A steep staircase descends to spectacular Cannon Cave, where one can experience hear the resounding boom created as the waves enter the cavern.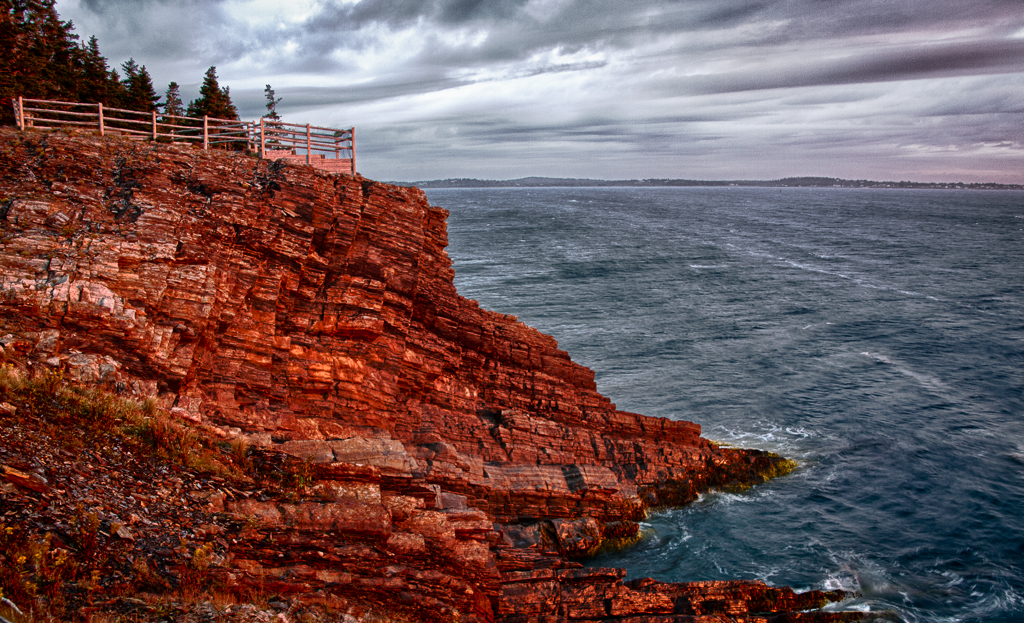 The campground is located right next to the walkway, and as before, we had the whole campground to ourselves.  So we picked a site up on the top of the cliff overlooking the ocean.  Dinner in Lunenburg, then we enjoyed a campfire on the cliff overlooking the ocean.
We set up our tent at another campsite set back from the cliff.  The winds picked up during the night, and howling winds and the flapping tent walls kept Jim awake, but Betsy slept through it.  So Betsy got up for a spectacular sunrise over the ocean while Jim slept in.  She grabbed the tripod and still in pajamas, explored the cliff walks along the rocky outcroppings and the paths to the Ovens.
Next stop, the quaint town of Lunenburg
Back to Nova Scotia