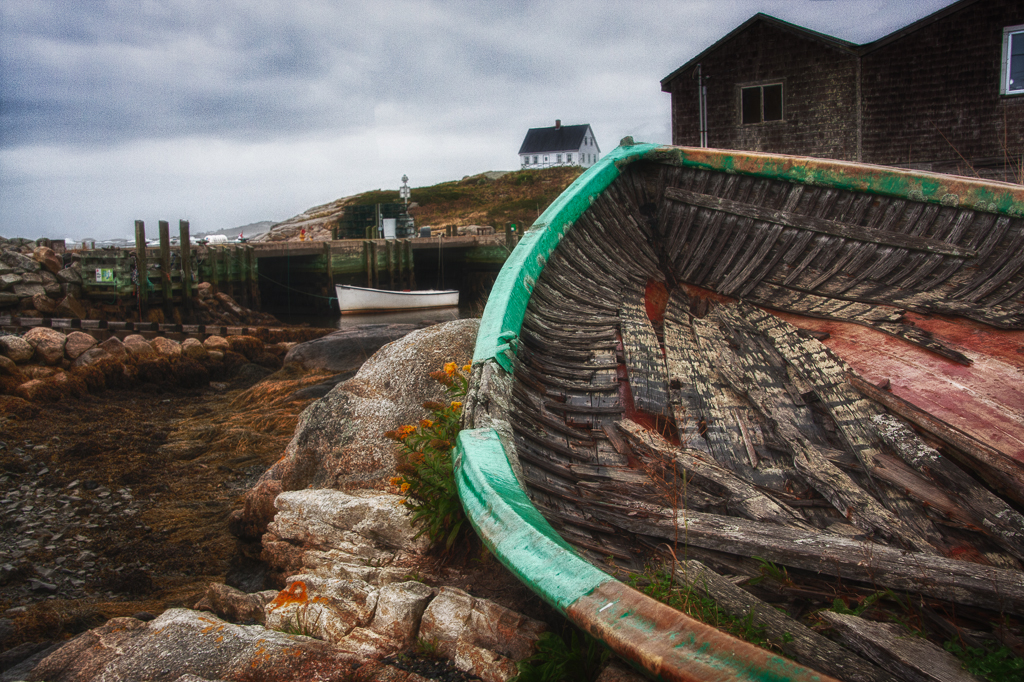 We planned our trip to stay at  for two nights near picturesque Peggy's Cove so that we could get some good sunrise or sunset pictures at the iconic landmark.  Alas, it poured rain throughout our stay!  Well, the good news was that the rain kept the tourists away, and we enjoyed the lighthouse perched on the rocky point as well as the quaint tiny fishing village known as Peggy's Cove.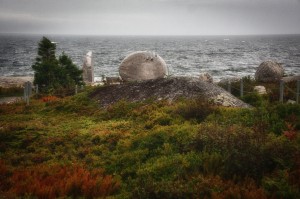 Swissair Flight 111 Memorial is located at the Whalesback, a promontory about one mile northwest of Peggys Cove. It was built to commemorate the victims of the Swissair Flight 111 disaster, which saw the aircraft crash into St. Margarets Bay on 2 September 1998. The monument reads in English and French: "In memory of the 229 men, women and children aboard Swissair Flight 111 who perished off these shores September 2nd, 1998. They have been joined to the sea, and the sky. May they rest in peace." The three notches on the monument at Whalesback represent the numerals 111. The sight line from the three grooves in the stone points to the crash site.  We had dinner at a local restaurant called Shaw's landing.  It was built by a man from Switzerland who lost his daughter on Flight 111.  He wanted to be close to where she died.
We spent a rainy day in nearby Halifax, mostly at the Maritime Museum of the Atlantic. There is a fascinating exhibit about the 1917 Halifax Explosion when two ships collided causing an explosion that killed nearly 2,000 people.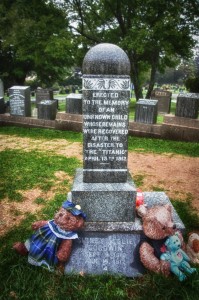 Our visit in 2012 marked the 100th Anniversary of the sinking of the Titanic, and the museum includes an exhibit that tells the story of Titanic's creation and demise, drawing out the key role Halifax played in the disaster. While Titanic's survivors went to New York, all who perished came to Halifax. The cable ship crews braved awful conditions to recover bodies and invented a unique system to solve the mystery of many unidentified victims. Many kept pieces of Titanic wreckage in their family for generations, preserving wonderfully carved pieces of her woodwork found as flotsam after the ships' sinking on April 15, 1912. Glimpses of their personal stories and those of the victims who are buried in Halifax are the essence of the museum's Titanic connection.
While in Halifax we visited the Fairview Lawn Cemetery where many of the Titanic victims are buried.
We especially enjoyed our stay at Anchor's Gate Bed and Breakfast.  Our hosts Nancy and George Pike were delightful hosts.  In addition to delicious homemade breakfasts, we were treated to stories and lots of fascinating history about the area that made our stay more meaningful.   Nancy's father, at age 2, survived the Halifax Explosion but lost many extended family members that fateful day.
Next destination, Advocate Harbour
Back to Nova Scotia