Haleakala, The "House of the Sun"was formed when wind, water and fire joined forces to create this now extinct volcano.  Breaking through the clouds we found ouselves perched at the top of the rim of the vast basin of this glorious mountain to watch the sun rise.
Our first day in Maui, we joined a Volcano Riders Sunrise Downhill Bike Tour. The wake-up call came at 1:30am as a van picked us up at our hotel at 2:10am to take us up the long and winding road up to the top of Haleakala.  It was cold and dark when we reached the summit.  We were given heavy windsuits and heavy leather bomber jackets and a pair of gloves. The darkness slowly transformed as light dawned on the landscape below, which actually was a layer of cloud formations that looked like land.  When the sun rose, a park ranger came out and sang a traditional Hawaiian sunrise chant.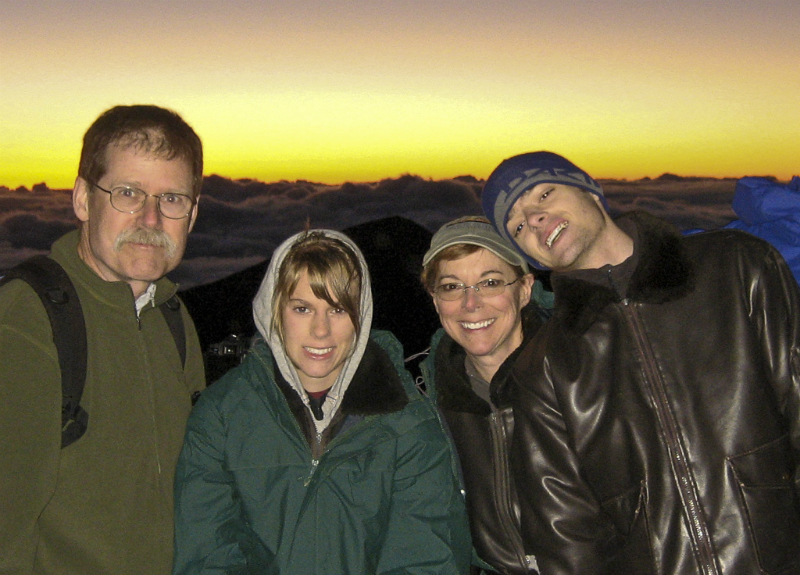 Then we donned our helmets and started our bike trek down the volcano.  We had such beautiful views of the sides of Haleakala and of the valley below and the ocean. The view constantly changed and the air smelled wonderful as we rode through a lavendar farm and a eucalyptus forrest.  As we descended lower on the volcano there were beautiful flowers and trees.
Our next Adventure, the Road to Hana