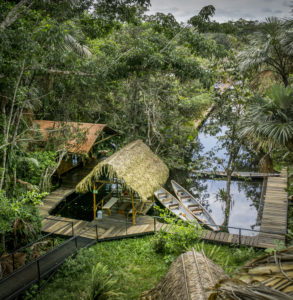 What a cool place! Just getting there was an adventure. First, a short flight from Quito to Coca, then a bus to the Napo River. A two hour ride in a motorized canoe down the river, then a mile hike through the jungle to smaller canoes. After a ten-minute paddle through a small channel in the the rainforest, it opened up onto a small lake – and Sacha Lodge appeared at the far side of the lake.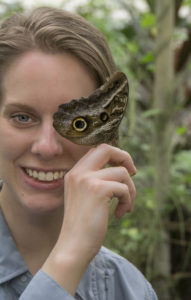 The lodge is nestled within a pristine 5,000-acre ecological reserve in the Ecuadorian Amazon. It is truly immersed in the rainforest – there are no roads and no vehicles anywhere nearby, just the ongoing sounds of monkeys and birds. Our experiences included walking across a bridge suspended over the rainforest canopy, paddling through creeks in search of monkeys and caiman, climbing to the very top of a giant kapok tree and swimming in a black-water lake. Our guide Pablo took us to to Shipati Warmi project, an initiative run by and benefiting the women of the Providencia community of Yasuní, where we were served a traditional meal of vegetables and giant beetle grubs. Our local guide Byron used his machete to clear our way through the jungle during a night hike.
So many unusual and potentially dangerous animals and insects were all around us, including boa constrictors and tarantulas. Guides accompanied us on all excursions, and the pathways to the cabins are all elevated on bo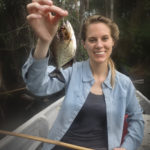 ardwalks. The cabins were comfortable, and the food and drink was delicious. And the friendly and knowledgeable staff made our experience a remarkable one – Pablo even took us fishing and Alex caught a piranha!
This video from the Sacha Lodge website provides an overview of our amazing experience in the jungle.
Here is a gallery of images from the lodge and nearby excursions. For best viewing, click on first photo below to enlarge, then click right arrow on keyboard to scroll through the gallery.
follow us up the Canopy Walk and Kapok Tower
back to Ecuador page