Trinidad is a gem of colonial cities, founded in 1514. This time capsule of a quaint and colorful city includes historical landmarks, and is set in a region of rolling hills of the Valley of Sugar Mills. The cobblestone streets are narrow, and always filled with people, dogs, old cars and bicycles.
We especially enjoyed staying with a local Cuban family in their casa particular – their home. They spoke no English and we spoke no Spanish, but communication was easy with hand signals and lots of smiles. The homes are small, but their meals are big and always included a wide variety of fruits and vegetables. As we toured the streets of Trinidad, we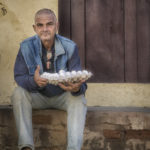 began to really appreciate the effort that went into each one of those meals. Every vegetable, fruit, meat product, loaf of bread came from a different street vendor. There is no local market where one can purchase a variety of food. You need to purchase each item separately. The bread man comes by on a bicycle early in the morning. Mangos are sold from a window down the street. A man comes by on a motorcycle to deliver a headless pig. And the tomato man pushes a wheelbarrow up the narrow streets peddling his fruit.
We visited the ruins of a sugar plantation, and climbed up an old tower that used to oversee the sugar plantation. A special treat was when we were joined by street photographer Julio Munoz, who shared his techniques for getting wonderful street photographs. We accompanied Julio and tried his techniques while photographing the amazing Cuban people.
The Many Faces of Che Guevera.