Betsy was honored to receive the Lifetime Achievement Award from the Local Media Association, and she and Jim went to St. Louis to accept the award. In addition to catching up with old friends from LMA, we enjoyed some of the sights of St. Louis.
In dowtown St. Louis, three acres have been transformed into an urban oasis of fascinating sculptures. City Garden integrates beautiful gardens, reflecting pools and fountains with modern and whimsical sculptures on the way to the Jefferson National Expansion Memorial and Gateway Arch.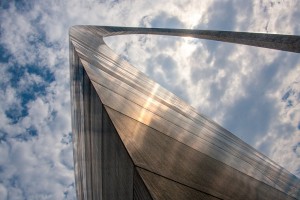 Located near where Lewis and Clark began their historic journey, Jefferson National Expansion Memorial is a 90-acre park along the banks of the Mississippi River. The park is dominated by the 630 foot tall Gateway Arch. We took a tram ride in a five-person capsule up to the top of the arch for spectacular views of downtown St Louis on one side, and the Mississippi River and Illinois on the other. Located underground beneath the arch is the Museum of Westward Expansion. And the landscape surrounding the arch contains tree-lined walkways and sweeping reflecting ponds that mirror the curves of the arch.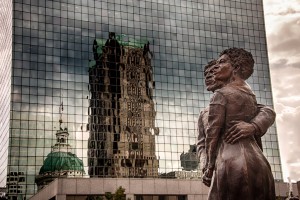 A block from the arch is the Historic Old Courthouse, where in 1846 Dred and Harriet Scott sued for and were granted their freedom. Later the Supreme Court declared that slaves were property and had no right to sue, a decision that hastened the Civil War.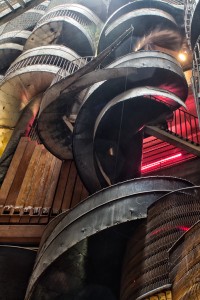 The City Museum is an eclectic mixture of a funhouse and surrealistic architectural marvel constructed inside a 600,000 foot former Shoe Company. Artisans created the museum from the very stuff of the city, reclaiming old chimneys, salvaged bridges and miles of tile. One can wander through a labyrinth of tunnels filled with creatures, or climb through giant slinkys. And for the ambitious, climb the spiral staircase to the top and take a delightfully dizzying trip back down on the 10-story spiral slide. It was like being in a giant chutes and ladders game with eerie lights and organ music!