We drove into Canada at Calais and had no wait at customs.  After a picnic lunch at New River Beach Provincial Park, we went on a nice hike through the woods to cliffs overlooking the bay.  Most of the trail was on meandering boardwalks over moss-covered forest floor and soggy bogs.
Sometimes the best memories of our travels are not of the places we visit, but of the people we meet.  At a visitor center, we struck up a conversation with an American, Richard Hamm, who told us his story. He served in Viet Nam and took a few bullets and shrapnel to his legs.  While recovering in the hospital, he received a letter from a 9-year-old girl from Chattanooga, and they struck up a pen-pal correspondence.  Richard promised to visit her when he returned to the States, but was redeployed and lost her address. Forty-two years later, the now grown-up little girl found Richard Hamm via Facebook, and they had an emotional meeting after all those years.  Richard Hamm was very proud of his story, and we enjoyed hearing it.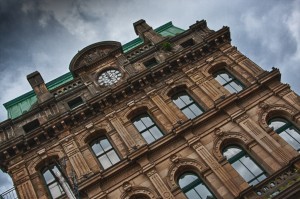 We set up camp at Rockwood Park.  There were about 30 RV's and one tent – ours. Our friend Richard told us how much he enjoyed the town of Saint John, so we went there to explore and find dinner.  A beautiful, quaint and historic town, we enjoyed the eclectic High Victorian architecture and stopped at the Three Sisters lamp as lighting strikes intensified.  We then ducked into a small restaurant and enjoyed Pork Souvlaki while looking out the window at the pouring rain.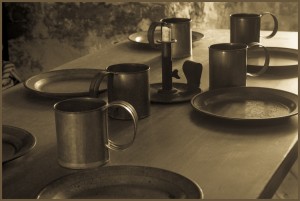 The next morning we packed up our soggy tent and visited the historic Carleton Martello Tower, built during the war if 1812 to protect them from attack by the United States.  Then off to the ferry for a three-hour ride across the Bay of Fundy to Nova Scotia.
On to our next destination, Kejimkujik National Park
Back to Nova Scotia