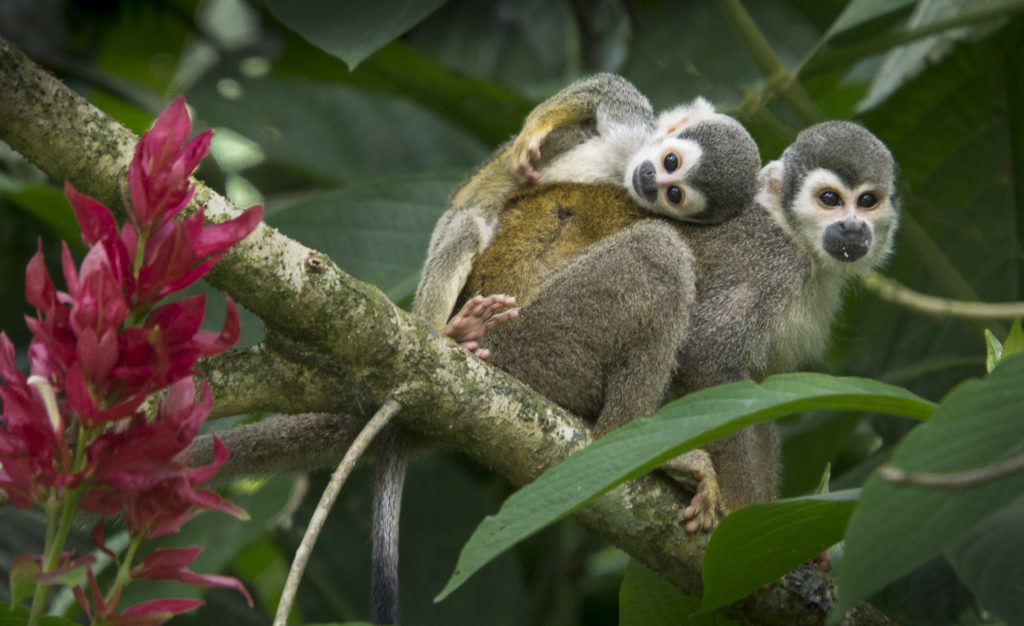 Such an abundance of flowers, insects, amphibians, birds and animals – even when difficult to spot, we could hear the howling of the monkeys and the chatter of the birds. We observed quite a few species of birds from the Canopy Tower and the Kapok Treehouse.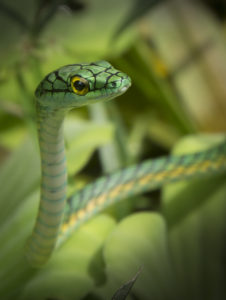 Frogs and giant insects including tarantulas were plentiful as we observed using flashlights during a nightime walk through the jungle. We spotted the glowing eyes of caimans during an evening canoe excursion, and experienced a spectacular show of sound and color as we watched hundreds of black-headed and blue-headed parrots perched on a the wall of a clay river bank.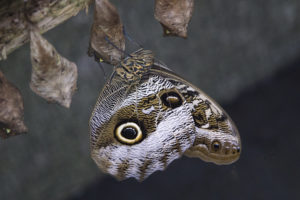 Sacha Lodge houses one of the largest butterfly farms in Ecuador, and we watched butterflies emerge from their chrysalis and take flight for the first time. Look at the tip of the wing of the owl butterfly – it is camouflaged to look like the face of a snake!
Perhaps the most fun to watch were the monkeys, as a few troops of Squirrel Monkeys and Black-Mantle Tamarins chattered and jumped from tree to tree right outside our lodge. And we were fascinated by the perseverance of the leaf-cutter ants who worked all day and night.
For best viewing of the gallery below, click on first photo below to enlarge, then click right arrow on keyboard to scroll through the gallery.
back to Ecuador page
List of birds and animals we saw:
Monkeys:
Golden Mantle Tamarin
Red Howler Monkey
Common Squirrel Monkey
White-fronted capuchin
Black Mantle Tamarin
Reptiles, Amphibians, Insects, other Mammals:
Black Agouti
Parrot Snake
Rainbow Boa Constrictor
Spectacle Caiman
Caiman Lizard
Brown-throated Three-toed Sloth
Electric Blue Morpho
Pink-toed Tarantula
Marching Wasps
Piranha
Bullet Ants
Glass-winged Butterfly
Nocturnal Owl Butterfly
Wolf Spider
Tiger Spider
Scinax Ruber Frog
Hypsiboas Nephyla Frog
Birds:
Anhinga
Cocoi Heron
Great Egret
Snowy Egret
Rufescent Tiger-Heron
Roseate Spoonbill
Black Vulture
Greater Yellow-headed Vulture
Osprey
Slender-billed Kite
Yellow-headed Caracara
Nocturnal Curassow
Dusky-headed Parakeet
Black-headed Parrot
Blue-headed parrot
Mealy Amazon
Greater Ani
Hoatzin (stinky turkey)
Ringed Kingfisher
Green and Rufous Kingfisher
White-necked Puffbird
Many-banded Aracari
White-throated Toucan
Crimson-crested Woodpecker
Sulpher-bellied Flycatcher
Tropical Kingbird
Black-tailed Tityra
Plum-throated Cotinga
Spangled Cotinga
Purple-throated Fruitcrow
Violaceus Jay
White-winged Swallow
Orange-bellied Euphonia
Turquoise Tanager
Paradise TanagerYellow-rumped Cacique
Russet-backed Oropendola
Giant Cowbird
Oriole Blackbird