Despite a driving rain, we enjoyed a trip aboard the Coastal Explorer to see Alaska wildlife and get up close to a glacier slowly moving into the fjord.  Beautiful waterfalls cascaded down the mountains from the snow-capped peaks above. Porpoises swam along side the ship – they were black and white and looked like small orcas.  The captain pointed out a bald eagle sitting atop a tree.  The water was rough and we had quite a bumpy ride out to Holgate Glacier.  We stayed for about 45 minutes at the glacier and enjoyed lunch while watching and listening to the glacier.  We regularly heard loud cracking noises and watched huge chunks of the glacier calve and fall into the ocean with an enormous splash.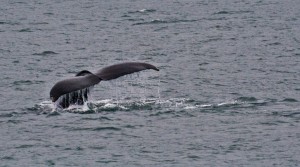 There were quite a few whale sightings.  We also saw harbor seals, lots of puffins, and a friendly sea otter who just laid on his back in the water for awhile, then put on a show as he rolled over and over.  The ship stopped at Fox Island where we enjoyed a delicious salmon bake dinner with corn on the cob.  Kenny had four brownies for dessert!
Click for our next Alaskan destination to Seward, or back to the Alaska page.