Acadia National Park offers a great diversity of hiking trails. There are about 125 miles of well-marked trails of which many interconnect with difficulty ranging from easy to strenuous. The trails were planned and blazed to maximize the spectacular scenery and provide great views of forest, mountains and the ocean. During the summer season, take advantage of the free shuttle service in the park which allows hikers to start in one place and get picked up and taken back to their car at the end of the hike.
One of our top favorites, the Ladder Trail offers spectacular views and adds the challenge of scrambling up granite rocks with the aid of iron rungs in the rock – hence the name "Ladder Trail".
This one offers up close views of the ocean pounding against the cliffs below, and ends up with a stroll through a beautiful birch forest. To get the trail, you need to walk across Sand Beach, a natural sand beach that is a popular swimming spot. At the far side of the beach is a channel of water that needs to be crossed which can be a challenge. People often throw some stepping stones down to provide access to the other side, but the channel constantly changes paths through the sand. Sometimes the only way across is to walk through the water, so bring a handkerchief to dry your toes!
Great views of the Bubbles as you walk around pristine Jordan Pond. Boardwalks cover most of the trail until you reach the far side of the pond, which includes some scrambling over and around boulders.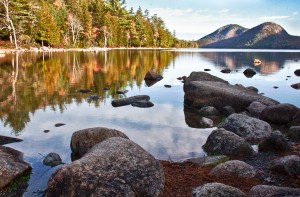 An easy walk on a flat woodland path and boardwalks through a beautiful forest of white birch trees.
Back to Acadia