We live in a world of temporary things. Here today and gone tomorrow.
We were reminded of this when a friend informed us that one of our favorite photo haunts is now gone. On road trips to Washington DC, we often stopped at a roadside junk shop in Post Deposit, MD.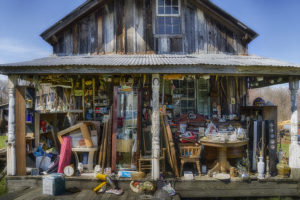 An unbelievable array of junk and treasures (for someone) cluttered the house and property of the historic Cummings Tavern. In his old fieldstone building, owner Roger Poffenbarger was surrounded by cans, jars, bottles, boxes, crates and barrels — the haul from 35 years as collector and dealer.
Mr. Poffenbarger was always friendly and ready to chat, and he invited us inside his home to see his private collections of memorabilia. Stacked from floor to ceiling were coffee tins, snuff boxes, elixers, German weapons, etc, etc, etc. We were a bit intimidated when we realized we were literally backed into a corner while Roger was waving an antique bayonet while explaining his collections.
We purchased some distressed barn wood which we use as a base for still life photographs. And we are happy that we have our photographic memories of this unique place, that even included a six-seater outhouse. We will miss this roadside attraction.